Summer is upon us once again. As I sit on the beach and look out over the ocean's surf, digging my toes into the sand, my mind begins to wander to an era gone by of bathing beauties, retro hairdos, and pinstriped suits. It is just then that I find myself looking forward to Galveston's favorite summer beach side event: the historic Galveston Island Beach Revue.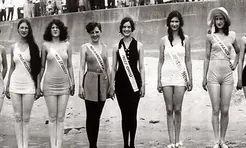 Dubbed the "International Pageant of Pulchritude and Annual Bathing Girl Revue" by C.E. Barfield, Galveston's Bathing Beauties Contest began in the summer of 1920. Each year from then on, this event marked the official kick-off for tourist season in Galveston. By 1928 the event, which had morphed into the "bathing girl revue", had become so popular that the Island's population tripled during the event weekend. These island pageants were the beginning of what is known today as the Miss Universe Pageant. The Galveston Bathing Beauties pageant ended in 1932, due in part to the Great Depression, but was resurrected in 2009 by Islander By Choice, LLC.
In the late 20's, a lesser remembered but equally crowd-inducing beauty pageant also gained the nation's attention, the Most Perfect Back contest.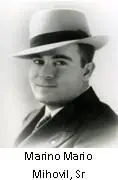 In 1937, Marino Mario Mihovil, Sr", a Chiropractor in Galveston for fourteen years and board member of the Texas State Chiropractic Association, helped organize Galveston's "Most Perfect Back" contest. The contest was sponsored by the Galveston Beach Association and held in conjunction with the final session of the convention of the Texas Chiropractic Association. Twenty-seven attractive young women (ages 18 to 30) from all over the state competed for $300 and a silver trophy. Members of the state association served as judges while the entries appeared in backless formal evening costumes." (1 ) During the competition, the 27 competitors were scored on overall health, correct posture, body balance, skeletal structure, vitality, and muscular tone. Dr. M. M. Mihovil presided and introduced participants during the program. It is rumored that the "Most Perfect Back" contest drew 10,000 spectators to Galveston.
These chiropractic sponsored competitions gained so much notoriety that they were covered in national newspapers and attracted national participants/contestants. Paramount, Pathê, and Universal Studios even distributed a film that was showcased in movie theaters nationwide.
Among the Galveston contestants that year was local residen Ms. Florine Gonzales. As a friend of HealthMatters Chiropractic, her daughter Claudia, who still resides in Galveston, shared with us a beautiful photo of her mother during the competition that was held 75 years prior. Although her mother didn't win the competition, she cherishes the picture always.
"I just love the picture," Claudia says. "She is so vibrant and full of youth!"
Dr. M.M. Mihovil went on to become the president of the Texas State Chiropractic Association in 1939, and although he has long since passed away his grandson, R.J., has continued Dr. Mihovil's hobby of photography and is now a professional photographer in downtown Galveston. R.J. has many historical documents and photographs of the competition and from that time period, many taken by his grandfather himself.
Claudia, in sharing her mother's photograph, spurred the imagination of contemporary island chiropractor Dr. Mary Brechtel of HealthMatters Chiropractic. Dr. Brechtel subsequently called Islander By Choice, LLC and requested that a new category be added to the Bathing Beauties contest at the Galveston Island Beach Revue (www.beachrevue.com).
Breathing new life into the historic Most Perfect Back competition of the 30's, HealthMatters Chiropractic and Islander By Choice, LLC have brought these two historical events together once again as a new competition category entitled the "Most Beautiful Back" contest.
Please watch for us in 2015 when we will once again be taken back in time to this fun and sun-filled period of Americana history.
Congratulations Most Beautiful Back Contest, in the Galvez Hotel and Spa's Galveston Island Beach Revue. We had a great contest this year, with 40 Beautiful Backs to judge on the three merits of Posture, Vitality, and Physique.
Alicia Archer, Winner 2017

Kaitlin Watson, Winner 2016 with

HMC Doctors Massare, Charness,

Chretien, and Martin (L to R).

Sasha Francis, Winner 2015
Cassie Donnell, Winner 2014

Leslie Thompson, Winner 2012

(1) Dr. Marino Mario Mihovil, Sr., as compiled by Robert Mihovil and Jo Long.